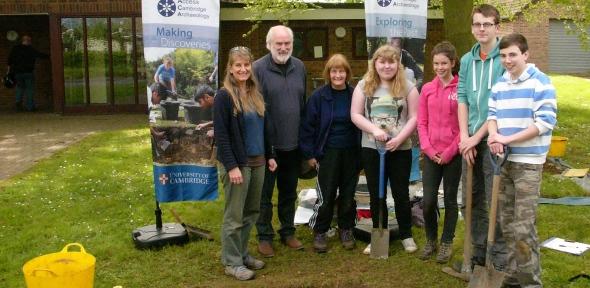 The young diggers came from Ely College, Soham Village College, Cottenham Village College and Witchford Village College.
Guided by professional archaeologists from the ACA team, including Carenza Lewis and Paul Blinkhorn, they excavated test pits in back and front gardens, in front of the Village Hall, and behind the Black Horse pub. A large number of clay pipes were found in the pub pit, suggesting that nipping out for a smoke may be a tradition of many centuries' standing.
According to Carenza, the HEFA is academically demanding but also gives participants a confidence boost.
"We mix up the school groups deliberately so that the students learn to get to know new people and to work alongside them.
"On the final day they join us in Cambridge to find out more about applying to university.
"Every participant gets a full report on the skills they have developed, which they can use to improve their school work and when it is time to write their UCAS applications."
Access Cambridge Archaeology works with schools across East Anglia. "Our events put schools in contact with the university, which is a world-class university on their doorstep," Carenza said. "We are particularly keen to work with schools with less experience of getting their students into higher education."
John Stanford, Chairman of the Fen Edge Archaeology Group, helped to co-ordinate the Rampton HEFA.
"The householders enjoy finding out more about their property," he said.
"Our members get to learn from the experts on Carenza's team – it's great to build links with the professionals and build up our confidence in what we are doing.
"And the involvement of local schoolchildren means that householders see young people in a positive way. It's great to see what the digs bring out in them."
Cottenham Village College pupil Rebecca applied for a place on the Field Academy because she is considering taking archaeology at university and wanted to see what happened on a dig.
"It's been really interesting finding out what's down there," she said. "It makes you look a lot more carefully at your surroundings.
"It's also been really interesting working with Paul and Carenza. It's amazing how much they know! 'It's the bottom of a cooking pot,' Paul will say. How do you find that out from a fragment?"
"Digs like these put people in touch with their history," added Carenza. "The test pits help to build a picture of how the whole community developed in the past. And beyond archaeology, they give young people interested in studying any subjects the enthusiasm, confidence, skills and knowledge to aim for top universities"
Rampton residents welcomed forty teenage archaeologists into their gardens for a three-day academic aspiration-raising Higher Education Field Academy, led by the University of Cambridge Access Cambridge Archaeology Unit and supported by the Fen Edge Archaeology Group.
Our events put schools in contact with the university, which is a world-class university on their doorstep.
Carenza Lewis, Access Cambridge Archaeology.
The text in this work is licensed under a Creative Commons Licence. If you use this content on your site please link back to this page. For image rights, please see the credits associated with each individual image.