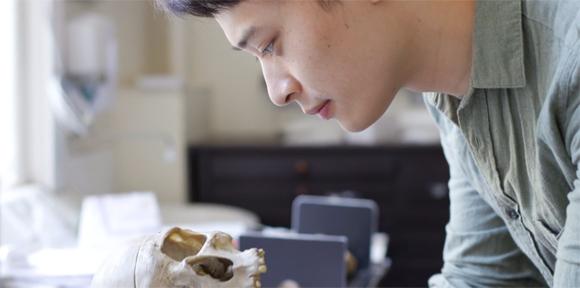 To mark the event, the University has released a film in which staff and researchers from the University, AstraZeneca and the Wellcome Genome Campus discuss their experiences of being LGBT+ in Cambridge – and why it is important to be who you are.
"While we have witnessed an increase in inclusion and equality efforts in STEM organisations and companies, we have to recognise the many challenges individuals continue to face, especially members of the LGBT+ community," said Dr Alfredo Carpineti, founder of Pride in STEM and one of the organisers of the initiative. "That's why we launched LGBTSTEM Day. We hope for this to be a day of celebration, of reflection, and of engagement. LGBTSTEM Day is part of the global push to increase the visibility of minorities in STEM fields."

The celebrations highlight the need for more role models to help enable LGBT+ scientists and engineers to be able to express themselves and to encourage others to consider a career in STEM. As Dr Sara El-Gebali, Scientific Database Curator at the European Bioinformatics Institute (EMBL-EBI) says in the film: "Sadly there are very few [LGBT role models in science]. It's not because we're not here, it's because we're not seen. We're not officially here."
Anna Langley, Computer Officer at Cambridge's University Information Services, was one of the founding members of the University of Cambridge's LGBT+ Staff Network. She works in an environment where diversity is a problem, but says that things that are changing.
"Working in IT is still a very straight, white, male, cis environment," she says. "But generally, I think that the university is trying to do the right thing in terms of diversity. It's trying to ensure that people are treated fairly regardless of their background, their gender identity, their sexuality."
Having a supportive work environment is essential in helping staff both personally and professionally, says Christopher Fox, Associate Scientist at AstraZeneca/MedImmune: "I don't think I'd be as confident as I am at work if I didn't have people around me who were openly gay or openly lesbian, people who are happy to be themselves. It made me feel that I can be myself."
Elizabeth Wynn, Advanced Research Assistant at the Wellcome Sanger Institute, adds: "I think it's important to be who you are, to be able to live as your authentic self, because you're never going to be truly happy or productive or complete if you're trying to silence or hide some part of yourself."
For Langley, being 'out' at work is important not just for oneself, but to support others. "If you're not visible as someone who's LGB or T, intersexual, queer, non-binary, whatever, then you're making it that little bit harder for other people to be open about their experience too, […] to be comfortable in their skin in the working environment."
The film's contributors all describe Cambridge as being a very positive, open city in which to live and work.
"There's a real emphasis on 'it's what you can bring to the table in STEM rather than who you are'," says Fox. "It's about what you can achieve, not what your sexuality is."
Michael Rivera, a PhD student in the Department of Biological Anthropology, agrees: "With such a diverse, knowledgeable population in Cambridge, I think it's very likely that you will find many friends to make here with common interests to you. You will find lots of allies who are open to different backgrounds and different sexualities – and maybe you'll even find someone very special to spend time with!"
For Dr El-Gebali, her move to Cambridge has made a huge difference to her life. "Being in Cambridge has helped me to come out, not just to my friends and family, but also to work," she says. "It's the first time in my long career when I can officially say 'Yeah, here I am and I'm not the only one'. Cambridge has been really, really good to me."
This year, staff and students from the University of Cambridge, Cambridge Assessment and Cambridge University Press, will be marching together as they join thousands of others in the parade at Pride London on Saturday. AstraZeneca and scientists from the Wellcome Sanger Institute will also be marching together as part of the Proud Science Alliance group.
Cambridge today celebrates the first ever LGBTSTEM Day – recognising all those who work in science, technology, engineering and medicine and who identify as lesbian, gay, bisexual, transgender and other minority gender identities and sexual orientations.
I think that the university is trying to do the right thing in terms of diversity. It's trying to ensure that people are treated fairly regardless of their background, their gender identity, their sexuality

The text in this work is licensed under a Creative Commons Attribution 4.0 International License. Images, including our videos, are Copyright ©University of Cambridge and licensors/contributors as identified.  All rights reserved. We make our image and video content available in a number of ways – as here, on our main website under its Terms and conditions, and on a range of channels including social media that permit your use and sharing of our content under their respective Terms.