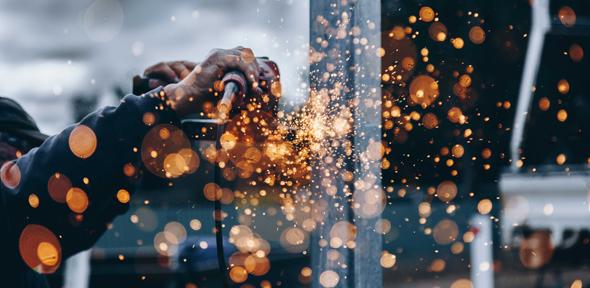 Find articles in our Spotlight on work 
It's an undeniable truth that getting 'work' right is as good for people as it is for the nation. Good work results in a healthy, fulfilled, safe and fairly paid workforce. It contributes to increasing productivity, better living standards and economic growth.
It's also true that discussions of 'work' in politics and the media have often been highly charged. This is certainly the case today. Technological change, gender relations, Brexit and new models of working such as the gig economy are all factors that are changing the world of work.
Inevitably, in a University as large and diverse as Cambridge, there are multiple views on these issues and many approaches to researching them. While academics have been coming under increasing pressure for several decades now to disseminate their findings to policy makers and even to consider ways of monetising them for the benefit of companies, the first task of any researcher is how to frame a project in a way that will create new knowledge or understanding. Methodological innovation is the key to making an impact, initially in academia, and then more widely.
If there is a common theme uniting the different stands of Cambridge-based research on 'work', this is it.
For instance, a study of a unique historical archive is helping to tell us whether literacy rates or rules governing entry to trades were more important in determining economic growth in early modern Europe, an issue with relevance today to many developing countries.
In the context of the contemporary UK labour market, a randomised controlled trial of measures to facilitate job search will throw light on the complex interaction between unemployment and mental health.
The application of 'big data' analytics to a huge dataset of educational outcomes collected by a British government department is providing new insights on the relationship between educational attainment and inequality.
And clinicians and psychologists are plugging the gaps in workplace level data to get a better understanding of the link between precarious work and mental health outcomes.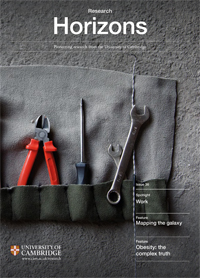 Much of the research carried out in Cambridge is novel in the sense of being interdisciplinary. Geographers and economists are combining their efforts to get a better understanding of the 'productivity gap' between different regions of the UK, which is just as puzzling and persistent as the better known divergence between Britain and other industrialised countries. Economists and legal researchers have pooled their insights and resources to create a new method for coding different countries' labour regulations, which should help resolve some long-standing questions concerning the effects of protective legislation on the economic performance of firms and nations.
Researchers do not initiate projects simply to overturn conventional wisdom, but this is often what they end up doing, simply because few of the ideas or practices which are 'taken for granted' in everyday discourse can safely withstand this type of scrutiny. One such idea is that governments can help promote economic growth by encouraging self-employment. Analysis based on face to face interviewing across several developed and developing countries suggests that the success of self-employment often depends on family ties, a factor neglected by policy makers.
Another piece of contemporary conventional wisdom is the claim that companies should invest in the emotional wellbeing of their employees to improve morale and performance. Analysis of one of the largest datasets of its kind suggests that chill-out zones and free yoga classes are less helpful in this regard than decentralising managerial decision making and organising work in such a way that employees build enduring relationships with colleagues and customers.
Among the issues at the forefront of public and media discussion today is that of gender equality. Research being carried out in Cambridge suggests that critical variables affecting women's involvement in senior management positions across different countries include expected years of schooling for women, maternity laws, and the provisions of corporate governance codes setting requirements for gender diversity.
Other work shows that quotas for female directors are only part of the answer; organisations which encourage diversity at all levels rather than focusing solely on senior positions will have greater success in narrowing the gender pay gap and eliminating occupational segregation.
Another issue of pressing policy concern is Brexit. Research council funding has supported a major scheme of work, the UK in a Changing Europe programme, aimed at understanding the myriad different aspects of Brexit and its implications for British society and the economy. Cambridge-based researchers have played a central role in this programme and in disseminating its findings. On this topic, which has so sharply divided the nation, the contribution that social science can make to an informed debate is needed more than ever, but is more than ever in question.
Research has shown that beliefs about migrant workers exploiting the benefits system have little basis in reality, whereas there is evidence for migration causing undercutting of wages and pressure on public services in some regions of the country; these are findings that demand a wider public hearing.
When the issue of Brexit is finally resolved, we will still be left with the dilemmas posed by technological change, which are at least as old as the industrial revolution that transformed Britain at the start of the modern age.
Cambridge is a world leader in the science and engineering-based disciplines; perhaps less well known are the major investments recently made by the University in areas of the humanities and social sciences that address the risks and potential of technological advances. Philosophers and lawyers are helping us determine whether it makes any sense to assign legal personality to robots, business researchers are examining the impact of the algorithm on everything from the development of experts to the controlling of working practices, while economists are reminding us of the need to avoid crude characterisations of the threat to jobs from digitalisation.
Predicting the impact of technological change is inherently hazardous. Future readers of Research Horizons will know, as we cannot, who has been making the right calls.
Inset image: read more about our research on the topic of work in the University's research magazine; download a pdf; view on Issuu.
Professor Simon Deakin (Centre for Business Research, Cambridge Judge Business School, and Faculty of Law), Professor Catherine Barnard (Faculty of Law) and Dr Brendan Burchell (Department of Sociology).
Researchers at the University of Cambridge are helping to understand the world of work – the good, the bad, the fair and the future. Here, Simon Deakin, Catherine Barnard and Brendan Burchell launch our month-long focus on some of these projects.
Researchers do not initiate projects simply to overturn conventional wisdom, but this is often what they end up doing, simply because few of the ideas or practices which are 'taken for granted' in everyday discourse can safely withstand this type of scrutiny.
Simon Deakin, Catherine Barnard, Brendan Burchell

The text in this work is licensed under a Creative Commons Attribution 4.0 International License. Images, including our videos, are Copyright ©University of Cambridge and licensors/contributors as identified.  All rights reserved. We make our image and video content available in a number of ways – as here, on our main website under its Terms and conditions, and on a range of channels including social media that permit your use and sharing of our content under their respective Terms.