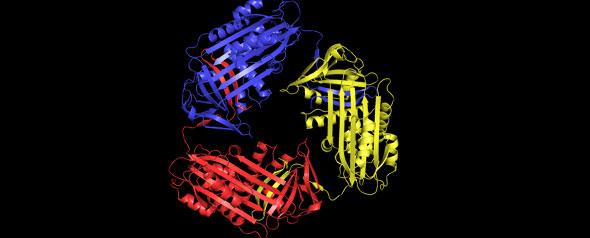 The company, Z Factor Limited, was founded by Professor Jim Huntington of the Cambridge Institute for Medical Research. The new funding has come from existing investor Medicxi, as well as Cambridge Innovation Capital and Cambridge Enterprise, the University's commercialisation arm.
Z Factor is developing new treatments for Alpha-1-Antitrypsin Deficiency (AATD). AATD, which is a significant cause of liver and lung disease, results from a defect in the gene encoding Alpha-1-antitrypsin, a type of protein. Individuals with two defective copies of the gene, making up around 1 in 2000 of the Western population, typically develop emphysema starting in their 30s. They are also at an increased risk of developing liver diseases such as cirrhosis and cancer. Around 2% of people have one defective copy of this gene, and are at five-fold increased risk of developing Chronic Obstructive Pulmonary Disease (COPD) as they age.
The most common mutation causing AATD is called the Z mutation, which disrupts the normal folding of the protein. Professor Huntington and his team obtained the crystallographic structure of this mutant form of Alpha-1-antitrypsin, which allowed for the first time the rational design of drugs that could correct folding and prevent the development of associated diseases. These small-molecule drugs act like molecular 'chaperones' for the defective protein, accelerating folding to the correct state.
Cambridge Enterprise helped in Z Factor's formation in 2015, licensing key intellectual property to the company. The company has already identified dozens of molecules that can correct the folding defect caused by the Z mutation, and shown that some of these drug candidates can increase Alpha-1-antitrypsin levels in an in vivo model of AATD.
Z Factor is now working to select the best molecules for use as a drug in human trials. The company expects to reach the clinic with its lead candidate in 2019.
"We are delighted to work once again with Cambridge Enterprise to ensure this exciting basic science is rapidly and efficiently translated into new medicines for a surprisingly common and debilitating cause of liver and lung disease," said David Grainger, Partner at Medicxi and Executive Chairman at Z Factor.
Following closely on the announcement of investments in ApcinteX and SuperX earlier this year, the Z Factor Series A brings the total raised during 2017 by companies founded by Professor Huntington, one of Cambridge's most successful serial entrepreneurs, to almost £30 million. "Jim is a leading academic innovator and Z Factor is dedicated to developing a therapy that will address a serious unmet medical need," said Christine Martin from Cambridge Enterprise, and a Director at Z Factor.
A University of Cambridge spin-out company has raised £7 million in new funding, which will help in the development of treatments for liver and lung disease. 
The crystal structure of a trimer of Z alpha-1-antitrypsin revealed the C-terminal domain-swap mechanism of polymerisation and the structural defect caused by the E342K mutation.

The text in this work is licensed under a Creative Commons Attribution 4.0 International License. For image use please see separate credits above.