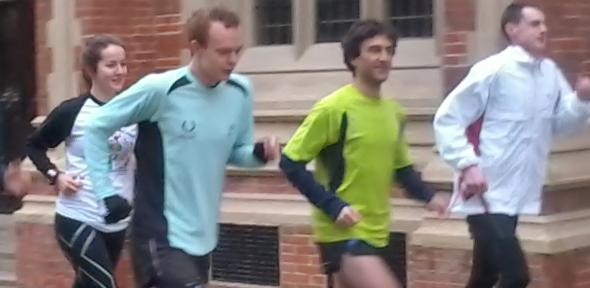 I've just walked back to the lab where I work in the Division of Molecular Histopathology at Addenbrooke's Hospital after giving my first practical class demonstrations at the Department of Pathology to around 150 undergraduate student medics, vets and natural scientists.  As an experience that I'd been nervously preparing for over the last few days, I found it was as educational for me as it was to the students.
The class was focused on understanding the multi-stage development of abnormal cell growths or neoplasms through samples and microscope slides, and recognising whether these growths were benign or invasive and malignant.  This session had a particularly personal resonance because I was diagnosed with a malignant cancer, a B-cell lymphoma, in 2004 when I was 15 years old.  After an initial misdiagnosis my disease progressed rapidly, becoming metastatic and spreading to lymph nodes within my neck.  In the class today, we observed a slide that showed cancerous cells invading into the underlying tissue towards a distinctly vulnerable lymphoid follicle.  I know only too well that, after metastatic invasion, the patient's prognosis will have become significantly less favourable.
It's not always possible for me to remain emotionally detached from my work, but I don't believe this is necessarily a bad thing.  There was a young child with leukaemia, just six years old, who was receiving chemotherapy treatment at the same time as me.  Before I completed treatment, he died due to complications arising from the treatment he had received.  It is for patients like him that I want to help improve our understanding of cancer so that more effective and tolerable treatments can be developed – this is the major motivational force that drives my work.
Following remission when I was 16 years old, despite disease that was resistant to conventional chemotherapy, I was encouraged to return to school and study hard, gaining a place to study for a BSc (Hons) in Cell Biology at Durham University. During this time, I spent a summer at the University of Birmingham with Dr Karl Nightingale conducting research into Mixed Lineage Leukaemia (MLL, a predominantly childhood blood cancer).  It was during those months that I got bitten by the research bug, and this led me to apply for a PhD project in the Department of Pathology at the University of Cambridge, where I am working today.
Our research is led by Dr Suzanne Turner and focuses on understanding the mechanisms that underlie the initiation and progression of a childhood T-cell lymphoma known as T-cell Anaplastic Large Cell Lymphoma (ALCL).  Although we are a relatively small laboratory, our research themes are quite diverse, ranging from the identification and characterisation of a small population of cancer cells that may propagate this disease and even convey resistance to standard chemotherapeutics with the ultimate consequence of possible disease relapse following treatment, to exploring the initial events that lead from 'the first hit' to becoming malignant in a mouse model that recapitulates many critical features of the human disease seen in clinic.
The area of research that I'm involved in explores the mechanisms responsible for becoming malignant within ALCL cells at the molecular level.  More specifically, my work looks at characterising how the mutant gene that is associated with this cancer hijacks the molecular machinery which would normally enable the cell to interpret the genetic information that it contains, subtly disrupting its function so that the cell loses control of its proliferation and self-regulation, setting it on a course to become cancerous.  This is known as oncogene-induced epigenetic dysregulation and represents a promising target for the development of novel drugs that can interfere with these pathways and prevent an enforced programme of cancerous cell growth.
My personal experience of facing up to cancer as a patient has led me down a career path where I can confront cancer as a research scientist, and I count myself very fortunate to have been afforded the opportunity to fight back against this disease.  One of the charities that has made this possible and supports our research financially, along with the pioneering blood cancer research of many laboratories in the UK, is Leukaemia & Lymphoma Research.
On 21 April I will be running the Virgin London Marathon 2013 to raise funds for the great cause of Leukaemia & Lymphoma Research, an ambition I've had since hospital physiotherapists helped me to get on my feet again after my disease had made me too weak to walk more than a few steps.  The slogan for the charity's running team this year is 'Together we're unstoppable'.  Quite honestly, after 26.2 miles around London I can't imagine stopping will be my biggest obstacle!
For more information on Leukaemia & Lymphoma Research go to http://leukaemialymphomaresearch.org.uk/ 
To sponsor Gavin Garland go to http://www.justgiving.com/Gavin-Garland1
 
Gavin Garland's experiences of confronting cancer as a teenager influenced his choice of career as a molecular biologist working on the mechanisms of lymphoma.  Now he's running the Virgin London Marathon 2013 to raise funds for the charity that support the work of his lab. 
I count myself very fortunate to have been afforded the opportunity to fight back against this disease.
Gavin (far right) in training

This work is licensed under a Creative Commons Licence. If you use this content on your site please link back to this page.